Nonclinical Drug Development Professional (Scientist) with PKPD/Pharmacometrics expertise (Senior Scientist)
Department

Science & Innovation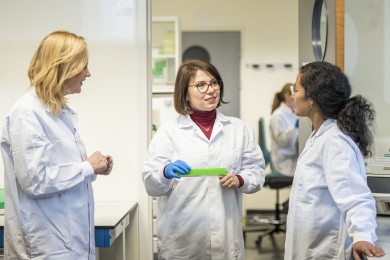 ProQR Therapeutics is a biotechnology company listed on NASDAQ with offices in Leiden, the Netherlands, and Cambridge, Massachusetts, USA. ProQR is focused on the development of life-changing RNA therapies to meet the unmet needs of individuals and families with common and rare diseases. A team of 120 enthusiastic ProQRians from all walks of life and more than 30 different nationalities is up to this challenge. We have the passion and commitment to make a difference in the lives of the communities we serve. Our proprietary Axiomer® RNA editing technology platform enables the editing of specific single nucleotides in RNA using the cell's own editing machinery. Axiomer® RNA editing technology harnesses ADAR (Adenosine Deaminase Acting on RNA), which is machinery present in all human cells to repair G-to-A mutations, modulate protein, and enable protective mutation functions. Axiomer could potentially yield a new class of innovative medicines and treat currently untreatable diseases.
ProQR is currently recruiting a Nonclinical Drug Development Professional (Scientist) optionally with PKPD/Pharmacometrics expertise (Senior Scientist) to join the Translational Development team (full time position). The team works in a highly collaborative fashion and is responsible for animal pharmacology studies, PK and safety studies, bioanalysis, PKPD modeling and generating the nonclinical and clinical pharmacology packages required to support the clinical development of ProQR's Axiomer® candidates. In your role, you will be reporting to the VP Translational Development.
Location: Leiden, NL

The role:
ProQR is looking for an allround nonclinical subject matter expert who will be responsible for the design and monitoring of external animal studies (through selected vendors)and evaluation of internal and external data in the current early research programs, as well as future development programs. The emphasis in the role will be on study management, evaluation of data and dose response relations (PKPD). Experience with in vivo studies and molecular, biomarker and functional assessments is required. Knowledge on either (regulatory) toxicology, pharmacokinetics or PKPD modelling is preferred but not necessary. The successful candidate is an enthusiastic goal-oriented team player and will work closely with other colleagues in an interdisciplinary team environment to progress the translational science in ProQR's programs.
The activities include:
Develop nonclinical safety and PK package to support the clinical development of lead drug candidates.

Interface with contract research organizations (CROs) to request slots & quotes and derive costs estimates
Plan, execute and oversee the conduct of external studies (including GLP studies) according to agreed timelines
Review of protocols and study reports, with a keen eye on data analysis and interpretation
Generate PK and PD datasets with appropriate modelling software to characterize and understand pharmacokinetics, dose - exposure and exposure-response relationships
Write PK, PKPD, and /or modeling and simulation components of (clinical) study protocols and reports
Evaluate or simulate dosing regimens in animal and early clinical studies to support dose regimen selection in the clinic
Review and integrate data sets across multiple disciplines
Ensure timeline and budget compliance
Qualifications:
Typically the candidate for the scientist position will have a PhD with 0-3 work experience, or Msc degree with 5 years of experience or a BSc degree with 9 year of experience in life sciences, toxicology, clinical pharmacology or pharmacokinetics.
Experience with in vivo studies and knowledge in nonclinical drug development is a must.
Working knowledge of PKPD software is preferred.
For the senior scientist position industry experience (4-8 years) with advanced PBPK, popPK or PKPD modeling techniques is a must.
Importantly, proven result-oriented & problem-solving mindset, pro-active and pragmatic self-starter with a can-do mentality.
Team player, flexible attitude, being able to work in a fast pace and dynamic environment.
Do you want to be part of our devoted team of enthusiastic professionals? Do you think you can contribute to achieving our mission? Do you want to work in challenging & dynamic biotech environment where your work can really make a difference? If so, we're looking forward to receiving your application by filling out our application form.
ProQR as an employer
As an employer, we are a true believer of the value of a workforce in which people from diverse backgrounds are encouraged to develop themselves, personally and professionally. We believe that happy and energized people, working well together in an environment where they thrive, will do phenomenal and awesome things.
We are committed to ensuring that no employee, candidate, or job applicant receives less favorable treatment on the grounds of race, age, disability, pregnancy, religion, gender identity and expression, sexual orientation, marriage, or civil partnership status. At ProQR we want to create an inclusive culture where everyone can be valued for who they are and in which individual differences and contributions in all forms are recognized and valued.
We offer an exciting and innovative working environment in a very committed organization, with the following benefits:
A competitive salary
8% holiday allowance
30 vacation days
An annual performance bonus
Stock options
A premium-free pension plan
A commuting allowance
A subsidized staff restaurant
Unlimited (un)healthy snacks and drinks
Employee events (boot camp, Hipster café, and other social events)
Do you think you can contribute to achieving our mission? If so, we're looking forward to receiving your application by filling out our application form.
You can contact Silvia Catellani via recruitment@proqr.com if you have any questions.