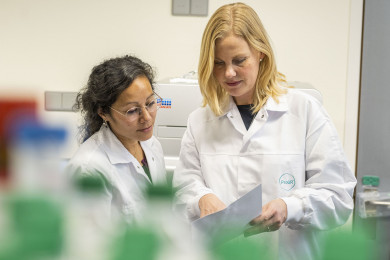 ProQR Therapeutics is a biotechnology company listed on NASDAQ with offices in Leiden, the Netherlands, and Cambridge, Massachusetts, USA. ProQR is focused on the development of life-changing RNA therapies to meet the unmet needs of individuals and families with common and rare diseases. A team of 150 enthusiastic ProQRians from all walks of life and more than 30 different nationalities is up to this challenge. We have the passion and commitment to make a difference in the lives of the communities we serve. Our proprietary Axiomer® RNA editing technology platform enables the editing of specific single nucleotides in RNA using the cell's own editing machinery. In addition to Axiomer®, TridentTM is focused on developing an oligonucleotide-guided pseudouridylation technology. Pseudouridylated stop codons are interpreted as sense codons by the ribosome, therefore diseases caused by premature termination codons are the primary target of the Trident technology.
Our Axiomer® unit is currently looking for a Scientist Trident (Full-time) to join our team.
The role: As Scientist Trident, you will lead scientific studies while independently analyzing and interpreting data and proposing next steps. You design, lead development, and act as subject matter experts of new and improved processes/techniques with hands-on-involvement.
You will work closely together with (Sr.) Researcher Technicians and other Scientists.
We are looking for candidates with extensive hands-on experience in the following fields:
RNA analysis techniques, e.g., RNA isolation, cDNA synthesis, digital PCR and gel electrophoresis
Culture of primary cells and cell lines
Experience with antisense oligonucleotides and/or bioinformatics is a plus.
We expect our Scientist Trident
To have a PhD degree in an appropriate discipline or an MSc degree with at least 7 years of work experience, preferably in an industry setting
To have a proven track record of publications and presentations
To be solution and result-driven
To work with focus in a dedicated team
To have a proven ability to effectively interact with technical and scientific staff
To design, plan and execute scientific studies
To be responsible for the optimization of methods and protocols
To analyze experiments and report these in a lab journal and technical reports
To present results and suggest next experimental steps
To contribute to peer-reviewed manuscripts, tech reports and patent filings
Location: Leiden, NL.
Skills and competencies that are required for making the difference:
Curiosity in science
Analytical and accurate
Proactive and flexible attitude
Team player
Autonomous and coachable
Good knowledge of English both in words and writing
Ability to work under pressure
Experience in biotech industry is a plus
Creative thinker
A nice person :)
ProQR as an employer
As an employer, we are a true believer of the value of a workforce in which people from diverse backgrounds are encouraged to develop themselves, personally and professionally. We believe that happy and energized people, working well together in an environment in which they thrive, will do phenomenal and awesome things.
We are committed to ensuring that no employee, candidate, or job applicant receives less favorable treatment on the grounds of race, age, disability, pregnancy, religion, gender identity and expression, sexual orientation, marriage, or civil partnership status. At ProQR we want to create an inclusive culture where everyone can be valued for who they are and in which individual differences and contributions in all forms are recognized and valued.
We offer an exciting and innovative working environment in a very committed organization, with the following benefits:
A competitive salary
8% holiday allowance
30 vacation days
An annual performance bonus
Stock options
A premium-free pension plan
A commuting allowance
A subsidized staff restaurant
Employee events (boot camp, Hipster café, and other social events)
Do you think you can contribute to achieving our mission? If so, we're looking forward to receiving your application by filling out our application form.
You can contact Silvia Catellani via recruitment@proqr.com if you have any questions.