Dr. Peter Adamson about RNA as the ultimate promise of ophthalmology
Navigating an improvement in vision
ProQR has a promising pipeline in ophthalmology programs that is built on RNA technology. According to Dr. Peter Adamson, ProQR's Senior Vice President Ophthalmology Franchise, RNA may eventually help fulfill the ultimate ophthalmology promise that seems outrageously optimistic: to make blind people see again. In this interview Dr. Adamson expresses his reasons for optimism and the advancements in ProQR's quest.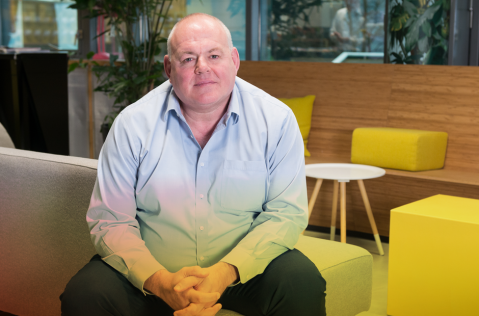 Update: Peter is a former SVP Ophthalmology and former member of ProQR's Scientific Advisory Board.
Peter Adamson, ProQR's Senior Vice President Ophthalmology Franchise, is passionate about the development of RNA oligonucleotide drugs, which can modify RNA to treat severe inherited retinal diseases. He believes that, with RNA technology, ProQR will be able to develop an important class of drugs for a number of the more than 500 severe genetic eye disorders that currently have very limited treatment options. Powered by this belief, Adamson and his team at ProQR are developing medicines for ophthalmic indications like Leber congenital amaurosis 10 (LCA10), Usher syndrome, Stargardt disease and Fuchs endothelial corneal dystrophy (FECD).
Contribution to ophthalmology
"After an extensive period as Professor of Molecular Pathology (Ophthalmology) at University College London and a career in big pharma, where I had experienced the potential of RNA oligonucleotides in ophthalmology, I was thinking of retiring. Then ProQR came along, offering me a job that was all about what I wanted to do. To me, one of ProQR's attractions was the RNA oligonucleotide angle. I am convinced that RNA oligonucleotides will ultimately lead us to good therapies and drugs."
"The great thing about how RNA can work for retinal diseases is that you don't need to worry about how to get it where it needs to be, and how long it stays there, and this appears independent of the targeting sequence. When we inject synthetic oligonucleotides in the eye, we know it reaches all the cellular layers of the eye. We can deliver it there and it stays there for a predictable time." So you only need to worry about the potency and showing the drug does what is supposed to do. Consequently, two main reasons why drugs fail, are a low risk for RNA therapeutics in the eye.
What are the chances for the sepofarsen (QR-110) program for LCA10? "There are about 20 types of LCA. Children with LCA type 10, the type we focus on, are born with very poor or no vision. The good thing is that the anatomy of their eye is relatively normal in the important central (macular) region – contrary to some other diseases where the tissue is already degenerated. The tissue in the center of the eye is normal, but it does not work due to a single genetic mutation in both copies of the CEP290 gene. We treat the tissue to make it work. In our phase 1/2 clinical trial, we treat eyes of both adult populations and children over 8 years old – with less degraded retinas and, hence, with a better chance of improving functions in the retina."
Light, contrast or shapes
The goal of the trial is to see that the treatment is safe, and if it can offer patients more light perception, more contrast sensitivity, or even shape identification. "The slightest improvement would be very meaningful, as it would improve patients' navigation around everyday objects, which is important for them, and hence, their quality of life. Potentially, we may be able to do more. The medicine we work on is meant to be restorative instead of just slowing the rate of decline, we hope to improve these measures of visual function. The otherwise normal tissue of a LCA10 patient is lacking a functional gene. As we are able to repair this, we can potentially make people see again. The clinical trials will need to tell us if this claim is even remotely feasible."
Adamson's strong belief in the success of the clinical trials in the sepofarsen program is based on the clear proof of the mechanism of action for the drug. "We know how it works, the proof of concept is clear. In our labs we work with very sophisticated retinal organoid models, allowing us to grow so called 'optic cups'. These optic cups are created from patient skin cells that are handled to differentiate to create a human retina. We have shown that when we add the RNA oligonucleotide to the optic cups, we can repair the gene defect that basically causes LCA10. We did that on a molecular level; we now want to show the tangible clinical benefits – improvements in navigation or vision – in patients." This optic cup model is also applied in our other retina programs.
One particular pro of the sepofarsen drug is its long half-life. Adamson: "It works and lasts a long time in the eye. We expect that the num­ber of injections a patient will need to get results will be low. We are currently testing administrations every three months, but maybe six months or less could be sufficient. This would be less burdensome to patients, their care-givers and hospital systems than other drugs administered monthly."
Progress in 2018
What does 2018 have in store? "For sepofarsen, we plan to acquire the interim analysis data of the Phase 1/2 clinical trial, after the majority of the LCA10 patients have had six months of treatment. In the meantime, our other ophthalmology programs are moving forward. Two are focused on Usher syndrome type 2A (QR-421a and QR-411). For QR-421a we plan to complete the preparations for clinical trials in 2018. We also have two other projects that are still in the lead generation phase, in which no lead molecule has yet been chosen: QRX-1011 for Stargardt disease and QRX-504 for Fuchs endothelial corneal dystrophy (FECD).
What is interesting about Stargardt disease and FECD is that tens of thousands of patients suffer from it. Both diseases are inherited. Both are part of a whole new category of diseases in which we, at ProQR, can find treatments. We hope to advance these programs forward in 2018 – we are eager to move on!" Which brings Peter Adamson back to his earlier remark about moving from the large business-oriented pharmaceutical enterprises to a company like ProQR. "With ProQR, I definitely work in a more scientific and medical environment. This is an inventor's company that puts the care for patients first." 
Ophthalmology Programs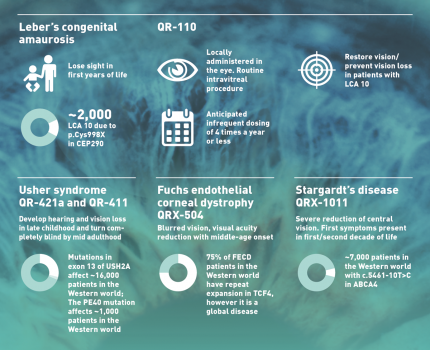 About Dr. Peter Adamson
Dr. Peter Adamson is an authority in the area of ophthalmology. Over the years, he has authored over 100 peer-reviewed scientific publications in the domains of inflammation, ophthalmology and neurology and retains an honorary appointment at UCL, Institute of Ophthalmology where he is Professor of Molecular Pathology (Ophthalmology). Currently, Dr. Adamson is a member of the Scientific Advisory Board at ProQR, a position he took after serving as ProQR's Senior Vice President of Ophthalmology. Before joining ProQR in 2015, he was Vice President and Head of Discovery Ophthalmology Research at GlaxoSmithKline and at present serves as VP, Disease Area Stronghold Head, Ophthalmology at Johnson & Johnson.