This page provides information about RP, its symptoms, causes and what treatment options are available. 
What is retinitis pigmentosa?
RP describes a group of inherited retinal diseases (IRDs) affecting the photoreceptor (light-sensing) cells which line the back of the eye, called the retina. People living with RP experience a gradual decline in their vision because the two photoreceptor cell types – rods and cones – degenerate and die.
Rods are responsible for vision in low light conditions, while also having an important role in peripheral (side) vision. Cones are most concentrated in the central region of the retina (macula) and have a prominent role in central vision (reading). Cones perceive bright light and are also necessary for color vision. In the early stages of RP, rods stop working which impairs vision in low light causing night blindness (nyctalopia). This is followed by blind spots that develop in our peripheral vision. Deterioration of cones follows, but many people living with RP maintain reasonable central vision well into adulthood.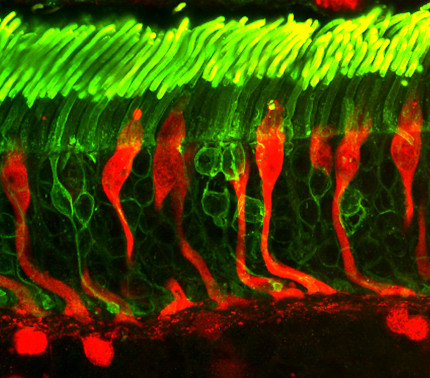 What are the symptoms of RP?
Due to rods degenerating first, the initial signs and symptoms of RP are night blindness and difficulty transitioning between low and bright light. As peripheral vision progressively deteriorates, tunnel vision ensues and only central vision is maintained.
A list of all visual IRD symptoms can be found on our inherited retinal disease page.
RP has different genetic causes and may start at different ages. Some people are diagnosed with the condition in early childhood, while others might not be diagnosed until they are adults. How RP progresses and how vision is lost also varies between individuals. It is therefore very difficult to predict what a person's vision will be like at specific times in the future. Both eyes are usually affected in a similar manner.
What causes RP?
RP is one of the most complex genetic conditions, known to be caused by more than 50 genes and affects approximately 1 in 3,000 to 1 in 4,000 individuals worldwide. The nature of RP inheritance also contributes to this complexity, whereby RP-causing mutations can be passed from parents to children in an autosomal dominant, autosomal recessive or X-linked inheritance pattern.
Genetic testing
To know what mutation is causing RP, genetic testing is necessary. Genetic testing is the only way to receive an accurate diagnosis and will help find out if there are treatments or clinical trials available.
Internal link
Genetic testing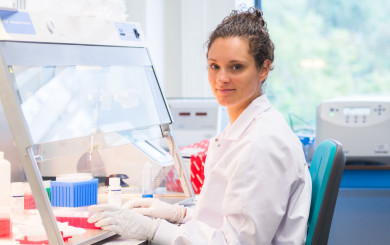 Autosomal recessive retinitis pigmentosa
In autosomal recessive RP, both parents are carriers, unaffected by RP. Each parent has one mutated copy of the RP gene and one normal copy. Each of their children has a 25 percent risk of inheriting two mutated RP gene copies (one from each parent) which then cause RP.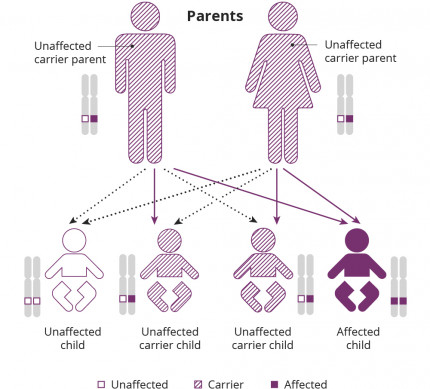 Autosomal dominant retinitis pigmentosa
In autosomal dominant RP (adRP) only one mutated copy of the RP gene is needed to develop the disease. A patient inherits one normal gene copy from the unaffected parent and one mutated RP gene copy from the affected parent. Each of their children has a 50 percent risk of inheriting the RP gene copy which then causes adRP.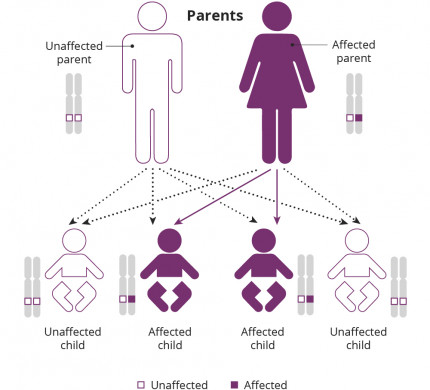 X-linked retinitis pigmentosa
In X-linked RP, the RP gene is located on the X chromosome and therefore the disease is passed down differently in men and women. In men, having one X chromosome, only one copy of the RP gene is needed to develop the disease. In women, having two X chromosomes, usually two copies of the RP gene are needed to develop the disease. However, some women who carry only one copy of the RP gene still develop a mild form of RP.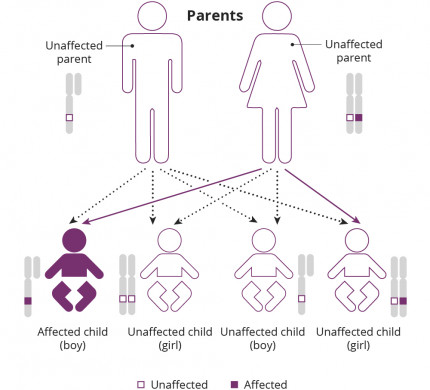 Is there a cure for RP?
As for most inherited retinal diseases, there is currently no approved treatment for retinitis pigmentosa. At ProQR, we are working hard to change that. We are developing an investigational RNA therapy for a common mutation causing RP. 
Learn more about ultevursen and the ongoing Phase 2/3 Sirius clinical trial for USH2A mediated RP.