Analyst & Investor Axiomer® technology R&D Event
Presentation
Published on at ProQR R&D Event
Link
Download
Description
This virtual event on March 29, 2023 featured presentations by ProQR Management on the company's proprietary Axiomer® RNA editing technology platform, detailed the initial pipeline targets, and provided guidance on the advancement of programs toward the clinic. ProQR also reported its 2022 year-end financials and the extension of its cash runway guidance.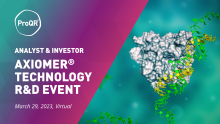 Speakers: ProQR Management and guest presenter Peter Beal, PhD, UC Davis, ProQR Scientific Advisory Board member
Peter Beal, PhD
Peter is a Professor in the Department of Chemistry at the University of California at Davis and Director of the NIH-funded UC Davis Chemical Biology Graduate Program. For over 25 years, work in the Beal laboratory has advanced understanding of the structures and mechanism of action for the ADAR enzymes responsible for adenosine to inosine RNA editing in humans. In addition, his group has led in the development of structure-guided methods for optimizing chemically modified oligonucleotides for recruitment of RNA-binding proteins including ADARs. Beal teaches organic chemistry at the undergraduate level and several classes in nucleic acids chemistry and chemical biology at the graduate level. He has authored over 100 peer-reviewed publications in the field of RNA chemical biology and mentored over 50 Ph.D. and M.S. degree students.