Therapeutic potential of an RNA editing platform using Editing Oligonucleotides (EONs)
Presentation
Published on at OPT
Link
Download
Description
Axiomer®, an RNA editing technology, uses Editing Oligonucleotides (EONs) to target specific RNA for A-to-I editing by recruiting endogenous Adenosine Deaminase Acting on RNA (ADAR). This presentation highlights the therapeutic possibilities of this platform that are not limited to disease causing mutations and can potentially address high unmet medical needs by editing wild-type RNA to engineer proteins or modify their function as well as creating de novo mutations.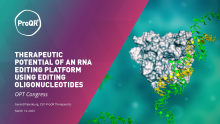 Gerard Platenburg - Chief Scientific Officer and co-founder
Gerard is a co-founder and has served as our Chief Scientific Officer since 2022, following his tenure as Chief Innovation Officer from 2014 to 2022. Gerard has an extensive background in RNA modulation and orphan drug discovery and development and is currently in charge of our Innovation unit.