Full field stimulus testing (FST) to assess sepofarsen patient response in Leber congenital amaurosis type 10
ePoster
Published on at AAO
Link
Download
Author(s)
Allen Ho1, Artur V Cideciyan2, Samuel G Jacobson2, Stephen R Russell3, Arlene V Drack3, Bart P Leroy4, 5, 6, Michael R Schwartz7, Wilhelmina den Hollander7, Hsin Yi Huang van Eekelen7, Agathe Plichta7, Friedrich Asmus7, Gerard Platenburg7, Aniz Girach7, David M Rodman7
1 Wills Eye Hospital, Thomas Jefferson University, Philadelphia, Pennsylvania, USA; 2 Department of Ophthalmology, Scheie Eye Institute, Perelman School of Medicine, University of Pennsylvania, Philadelphia, Pennsylvania, USA; 3 The University of Iowa Institute for Vision Research, University of Iowa, Iowa, USA; 4 Center for Medical Genetics, Ghent University Hospital, Ghent, Belgium; 5 Department of Ophthalmology, Ghent University and Ghent University Hospital, Ghent, Belgium; 6 Division of Ophthalmology and Center for Cellular Molecular Therapeutics, The Children's Hospital of Philadelphia, Philadelphia, Pennsylvania; 7 ProQR Therapeutics, Leiden, the Netherlands.
Description
In a phase 1b/2 trial, 11 LCA10 patients received intravitreal sepofarsen. The goal was to evaluate patient response to sepofarsen through assessment of visual acuity and full-field stimulus testing (FST). Data show that FST seems a more sensitive method in patients with severely impaired vision.
Recognized with best poster award at AAO 2020.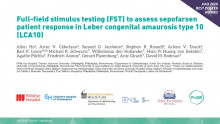 Sign up for Expert Eyes
Sign up for our newsletter dedicated to healthcare professionals, to keep you informed on our research, clinical trials and other information related to IRDs.